A Night with the Salman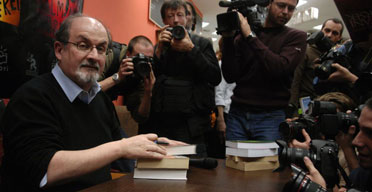 In the summer of 2003 I spent a day touring the Emory (which with a bit of rearranging could be Remoy; and I wasn't even the first one to notice it) University campus. It was my first stint really exploring an elite academic campus. It was nice, quiet, beautiful. A nice anecdote from the trip I'll always remember is that in the campus quad a week long camp was going on for kids ages 8-14. Now growing up where I grew up I was used to sports camps or general summer camps; day camps, week long camps, summer long camps. If it was summer I was usually in basketball camp refining my never improving skills. That's what I knew. But at Emory on that humid summer day in June there was forty some odd kids paired off studying, refining, and practicing their skills at the art and game of one of the worlds most respected and outrightly elitist games possible: these kids were at chess camp. Chess, the game of the bourgeois, the art of the elitist. Both which I so necessarily long to be.
Salman Rushdie has recently dedicated his personal manuscripts and archives to Emory. It's interesting because not only are there in this collection written manuscripts, potential book covers, and journals but you'll also find in this collection four Apple computers. Well there's Rushdie at the forefront, bridging the practical and old with the technological and future all through his medium of storytelling. The man who wrote the
Satanic Verses
and divorced Padma Lakshmi, a former Brit, a total Desi, taking his ability to construct the most poetic and vibrant descriptions in his prose, and giving his history all to Emory. Oh, how lucky Emory. How lucky.
Well, seven years later after that initial touring of the Atlanta Georgia campus, I'm sitting in West Chelsea, a bit late, with say four hundred other supposed literatis. Most of us looking the part in our layered ensembles of the the most casual class with hair styled unconventionally conventional and of course wearing the most proper and classy eyewear. We were there to hear, learn, and hopefully absorb through audible osmosis of course the supposed talent of Mr. Salman Rushdie.
I've hung out in West Chelsea before. The event on 21st between 10th and 11th is nothing new and is always the same. The same people looking the part. The same people who keep, or at least with total effort, the bourgeois auspices of Manhattan alive. It's become token of the neighborhood and more so the same for the Island and even the City. And events like these, where a former acclaimed auteur who in the past deserved of such acclaim puts on a reading of his new quasi-young adult fiction (which by what was read sounds boringly blas'e), become just another event of social capital where the event and the subtle boring humor of Rushdie's comments on writing and fiction will be resuscitated over tomorrow night's dinner conversation or in passing over the next round at the local upscale pub. I looked around during the night fighting the feeling of warm comfort pushing me to sleep as I barely escaped the bite of the winter night and saw all sorts of the same type of modern urbanites. Some staring brightly encapsulated by Mr. Rushdie's mere educated celebrity presence or others like me falling asleep while trying not to be distracted by their phone or the latent attraction to their amorous neighbor.
These events like most, solely become social capital. I couldn't help but laugh at the fact that there were so many people, including me, crammed into this white-walled modern minimal gallery listening to this middle-aged potentially has-been author who indirectly validates Western Imperialism all for the ability at some point in our lives to say we had been there. I was honestly at this event hoping to see Padma, to steal a look from Padma, to swoon over Padma, to woo Padma, to say a word or two to the most beautiful woman (who happens to be all Brown) and convince her of my potential as a lover and a mate. But unfortunately for me, and maybe a few hundred other males in that space Padma wasn't there and we were just stuck with the forever balding Mr. Rushdie and his fictional sentiments on being a child living in a dream-like video game universe fighting Riddlers while walking bears named "Dog" and dogs named "Bear."
I like to think at times like these, when I quietly laugh loudly to myself, that I will soon deserve this. That soon enough, I'll be the one up there, behind a podium, with my literary big dick swinging for all to see and hear. I'll be the one who will get all the adoration and unnecessary temporal acclaim. And I like Mr. Rushdie will run with it. I like Mr. Rushdie will capitalize on it. I hope to be the one where one day in West Chelsea or maybe in the future it will be in East DUMBO and there will be a few hundred normal needy hoping schmucks ready and waiting for the possibility of what could and would come out of my mouth and through my lips as if divinely inspired but divinely inspired by the god that is me. I hope for that, and that's what I dreamt of as I slept as Salman Rushdie spoke and Padma Lakshmi slipped past me once again.
Without Relent,
Peace
Remoy